Scale Checker – Pipeline blockage inspection
     Inheriting the research from the parent company – Chugai Technos Corporation of Japan, we would like to introduce the pipeline blockage inspection service. Through Scale Checker, know the status, scale, amount of adhesion, sticking and accumulating in the pipeline. Through the processing software on the computer, the status of adhesive and scale will be displayed on the screen. In addition, it is possible to measure materials with external insulation, measuring materials up to 600mm in diameter by changing the source.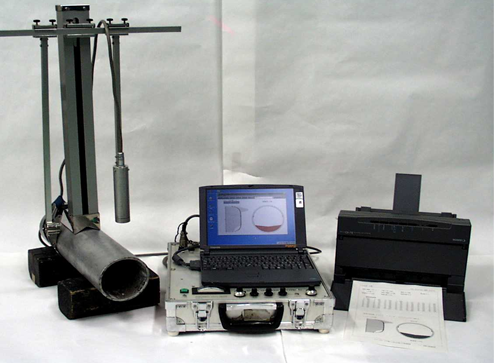 Feature:
The source and the detector are set or either side of pipe and moved parallel to sectional direction, then an amount of scale is estimate by measuring the stregnt of radioactive ray passed through at each scanning point.
Measuring can be performed without removing the heat insulation.
It is so easy to get measured data and imaging picture in field that the judging can be obtained immediatly.
Measured data can be stored by computer, therefore the hard-copy can be obtained later, for edit at office.
Software is conversation-type to operate convinently.
Application:
     Check the scale deposition and clogging of various plant's pipelines, seawater pipeline, (shellfish adhesion), powder transport pipeline, gas pipeline, water supply and drainage pipeline, cooling and heating pipeline, hot spring pipeline, etc.